Experts say autism can be treated through occupational therapy, which helps individuals with the disorder develop their skills and social abilities. But how much will it help? Research suggests there is a correlation between treatment success rates and clinical severity of autism symptoms.
Occupational therapy is a type of therapy that focuses on helping children with autism develop skills and abilities. Occupational therapists help children to improve their daily living skills, such as eating, dressing, toileting, social interaction, and self-care.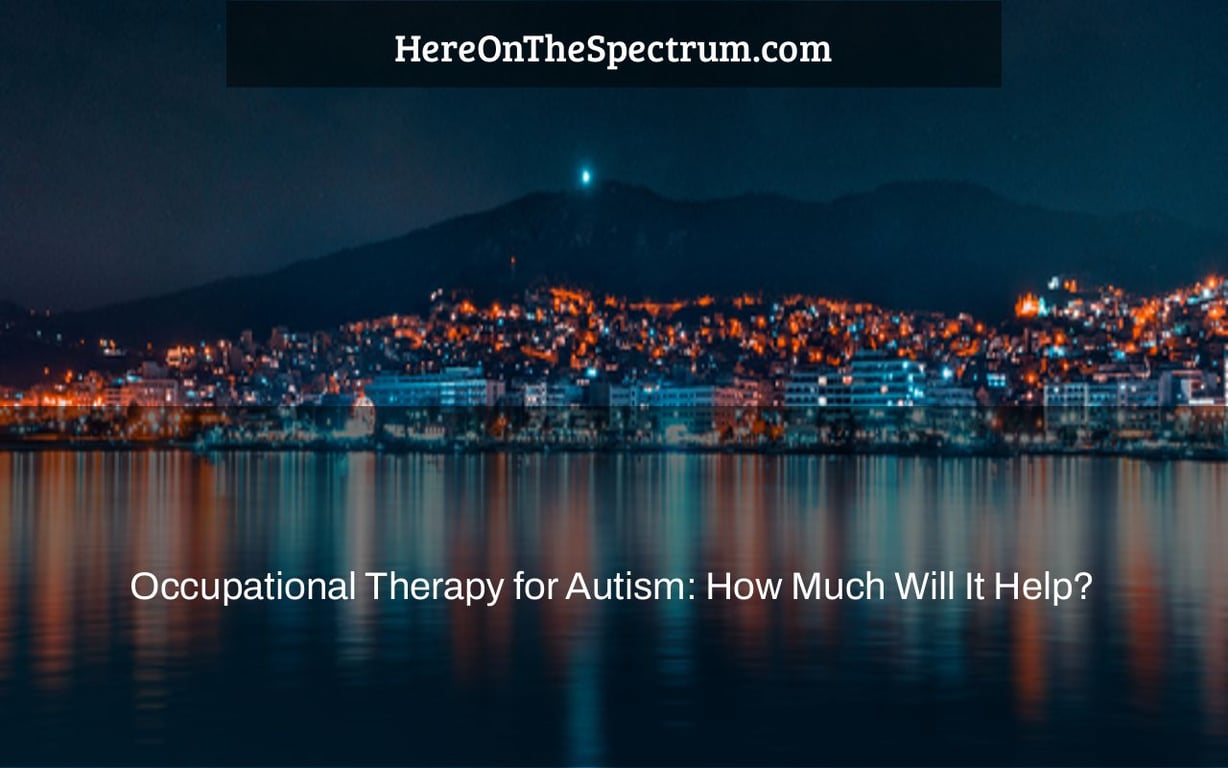 Occupational therapy is a sort of treatment that aims to improve the lives of individuals who are recuperating from an accident or disease, or who have a condition like autism. Interventions are tailored to the requirements of individuals of various ages.
The treatment of autism is a frequent use of occupational therapy. It is often used in the therapy of children and people with autism in order to improve their cognitive, physical, social, and motor abilities.
Sensory processing difficulties are common among people with autism. They may get overwhelmed by ambient stimuli and lack the abilities to filter out the irrelevant information.
Students learn to better handle sensory input and navigate daily circumstances with less stress and anxiety via occupational therapy exercises. 
What Is Occupational Therapy and How Does It Work?
Occupational therapy (OT) assists individuals of all ages in doing tasks that they want and need in order to get through the day. Occupational therapy (OT) improves health and helps individuals live better with injury, sickness, or handicap by using therapeutic everyday activities or vocations.
Occupational therapy also enables disabled youngsters to engage more completely in school and in social circumstances.
A typical occupational therapy curriculum contains the following components:
An initial assessment in which the client, their family, and the occupational therapist determine the client's objectives.

A tailored intervention plan to meet the client's requirements and help them execute everyday tasks and achieve their objectives.

Ongoing assessments to ensure that the treatments are working and that the objectives are being met. Changes to the treatment plan are made as required.
Occupational therapy is a research-based therapeutic method that offers a comprehensive approach to healing. The goal of therapy is to make the individual's surroundings more conducive to their well-being. OT services involve assessing the client's home, work, or school environment and giving suggestions for how to make these environments more accessible.
Occupational therapists (OTs) are those who help people with offer training on how to utilize adaptive tools such equipment and exercises, as well as information for family and caregivers on how to help the person in need. Occupational therapy is used to address these skills:
Cognitive

Physical

Social

Motor
Occupational therapy helps people live more independent and fulfilled lives by focusing on developing the abilities listed above. This treatment is suited for persons of all ages who need particular interventions to help them fully participate in their everyday life.
Occupational Therapy & Autism
Due to the high prevalence of sensory processing difficulties in children with autism, occupational therapy is a frequent intervention. Sensory processing impairment affects 60 percent to 70 percent of children with ASD.
Autistic children and adults often fail to integrate information received via their senses, causing them to digest information more slowly. The quantity of sensory information that children with autism take in may overwhelm them, and they have no way of determining what information is unimportant.
Autistic youngsters may have meltdowns or engage in problematic conduct as a consequence of this overload. They may retreat or shut down totally. Autistic kids learn how to better filter out extraneous information via occupational therapy exercises. Each sensory system is targeted with specific approaches.
The nervous system of a youngster grows more ordered or controlled with time and experience. The child's performance at everyday chores increases as the nervous system gets more controlled.
Occupational therapists (OTs) are those who help people with
Occupational therapists (OTs) are those who help people with are master's level therapists who have passed a national certification exam . They are formally educated and trained in the evaluation of a person's current skill level, identifying their goals and creating a treatment plan to best achieve those goals. After passing the national certification exam, Occupational therapists (OTs) are those who help people with must apply for state licensure.
Occupational therapists (OTs) are those who help people with work with autistic students, as well as their parents, siblings, and teachers. They observe the student and gather information through parent and teacher interviews. Once enough data has been collected about the child's relationships, eating, self-care, and daily living skills, the therapist works with families to set goals and create an intervention plan .
The occupational therapist's responsibilities include:
Direct services are provided.

Conducting occupational therapy exams.

Other people in the client's life, such as other members of the treatment team, are consulted and collaborated with.

Making suggestions for further assessments and services.

Advocating for changes and revisions.
By fulfilling the above tasks, Occupational therapists (OTs) are those who help people with support community inclusion of individuals with autism.
Through OT evaluations, Occupational therapists (OTs) are those who help people with are often involved in the early detection of autism as well. When an early diagnosis is made, Occupational therapists (OTs) are those who help people with have the opportunity to make recommendations that will support positive development and outcomes. Autism research continually shows that early intervention results in more successful treatment outcomes . Occupational therapists (OTs) are those who help people with perform the above services in a variety of settings that include:
Early intervention programs run by the states.

Schools and after-school activities are both important.

It is a private practice.

Programs for mental wellness.

Vocational programs are available.

Daytime programs are available.
What Happens During Occupational Therapy Sessions?
A normal OT session lasts 30 to 60 minutes. Sessions are arranged on a regular basis, albeit the number of sessions per week may vary depending on the individual's requirements and objectives. During a session, the therapist works with the client one-on-one to complete specified activities aimed at achieving the previously set objectives.
An occupational therapist will also promote skill practice outside of treatment sessions. The purpose of occupational therapy is to be able to use taught skills in a range of environments that a person experiences in daily life.
Parents and caregivers may get OT help at home to learn how to conduct effective treatments. This amount of family involvement is critical since repetition helps to cement these abilities.
Occupational Therapy Interventions Examples
Occupational therapists (OTs) are those who help people with are equipped with a large toolkit of interventions. When working with children, activities must be creative in order to keep kids interested and engaged while addressing their underlying conditions. For children with autism or sensory processing issues, example OT interventions that can be very helpful include:
Bins for sensory input. Make a sensory bin with a variety of shapes and textures using everyday home objects. Visual perception, language, and fine motor abilities are all improved by exploring the rubbish.
Swings. Have the youngster lay down on their stomach on a platform or similar sort of swing and throw balls or bean bags into containers you've put around them while they swing. This form of action promotes body awareness, visual perception abilities, coordination, and muscular strength.
Clips from videos Choose social skills-related video segments from the student's favorite cartoon. You may talk about what the characters were doing, how they felt, and what they could have been thinking after you've seen the video. This practice encourages perspective taking (the capacity to perceive things from someone else's point of view) as well as an awareness of social skills.
Playdough. Playdough may be made with your kid or student. Working through the process with the kid allows them to learn following instructions, experimenting with different textures, and managing emotions like impatience.
Races with straws This practice is a fantastic oral motor exercise for youngsters with oral motor problems. Fill a huge container halfway with water, give each individual a straw, and have them compete to see who can blow their cup across the water the quickest. If the youngster is not ready for competition, the activity may be done without turning it into a race. The abilities of vision and coordination are also emphasized.
Simon declares. This timeless game may be used to work on a variety of abilities. Lead the game and have your kid learn body awareness, coordination, creativity, and social skills via gestures. To foster perspective taking, the youngster may take a turn leading the game when they are ready.
Making a human being. Work with your youngster to create a person using a variety of art items. The youngster gets to choose the person's appearance. You may also have a dialogue with the individual about how they are feeling. Body awareness, direction, visual abilities, fine motor skills, and emotional discussion are all enhanced by this practice.
Occupational Therapy's Effectiveness
Occupational therapy is very helpful in helping children and people with autism acquire sensory-integration skills and treatments that enhance their quality of life. A variety of OT therapies have been demonstrated to be beneficial in encouraging favorable results in kids with autism in studies.
OT may help with a range of things in life, and there are a variety of therapies that can be employed, including:
Sensory integration and sensory-based therapies are two types of sensory-based interventions.

Interventions that are participatory and built on relationships.

Interventions based on developmental skills.

Interventions to improve social-cognitive skills.

Interventions that are directed or facilitated by the parents.

Behavioral therapies that are both intensive and long-term.
Researchers discovered that occupational therapy is closely linked with the concepts of ASD treatments after reviewing papers and therapies. OT therapies have a history of reducing ASD symptoms and have been shown to be beneficial.
In order to establish successful intervention techniques, research supports the use of complete personalized evaluations of an individual's present performance. Similarly, activity-based, family-centered, multidisciplinary programs that integrate play are particularly beneficial.
Occupational Therapy Costs
OT can be an expensive out-of-pocket service, but there are a few ways to get the costs covered for you or your child. Autism Speaks explains three different ways that the Occupational Therapy Costs services for autistic children are frequently covered. Depending on your situation, the costs of OT can be covered by:
Insurance. OT is frequently a covered service through health insurance. Depending on your insurance carrier, you may need a doctor's note stating that the treatment sessions are medically required. To check the details of your plan, contact your provider directly.
A program for early intervention. If your kid is under the age of three and gets OT via the state as part of their early intervention programs, the cost of OT will be considerably reduced or even free, depending on your family's budget.
How Can Occupational Therapy Help People With Autism?
Occupational therapy is an important tool for children and people with autism who want to improve their performance at home, job, and school. Targeted OT therapies help to build social and behavioral skills. Occupational therapy, in the end, helps persons with autism improve their talents by providing a foundation.
OT therapies may assist people of all ages on the autism spectrum. Occupational therapy may help persons with autism improve their overall well-being by teaching them the skills they need to live more independent and fulfilling lives.
Occupational therapy is usually administered as part of a complete autism treatment regimen. Autism treatment programs often incorporate applied behavior analysis therapy and speech therapy. While autism spectrum disease cannot be cured, its symptoms may be significantly lessened, enabling people to live more balanced and prosperous lives.
References
The "occupational therapy for autistic teenager" is a treatment that helps children with autism. It can greatly improve the quality of life for these individuals, but it is not always necessary.
Frequently Asked Questions
How effective is occupational therapy for autism?
A: Thats a difficult question to answer. The effectiveness of occupational therapy for autism is largely dependent on the individual and his or her needs, as well as what that particular therapist does with it.
How effective is occupational therapy?
A: Occupational therapy is a type of physical, mental or occupational intervention designed to help an individual adapt and perform tasks related to their occupation or hobby. It has been shown to be effective in treating children with developmental disabilities such as autism spectrum disorder, cerebral palsy and epilepsy.
How much can autism improve?
A: The question does not make a lot of sense.
Related Tags
occupational therapy for autism at home
occupational therapy for autism near me
how to become an occupational therapist for autism
occupational therapy autism assessment
occupational therapy for autism adults
Janice is a Board Certified Behavior Analyst. She graduated from the University of British Columbia with a Bachelor of Arts in Psychology and Special Education. She also holds a Master of Science in Applied Behaviour Analysis (ABA) from Queen's University, Belfast. She has worked with and case managed children and youth with autism and other intellectual and/or developmental disabilities in home and residential setting since 2013.